Greeneville City Schools Named Exemplary District by TN Dept. of Education
October 24, 2017 – Greeneville City Schools is one of 47 districts across the state to earn the status of "Exemplary" from the Tennessee Department of Education (TNDOE), who has released the accountability status of all school districts in Tennessee. Districts designated as "Exemplary" have exceeded the growth expectations for all students as well as each historically underserved student group.
"The teachers, students, administrators, and instructional support teams in Greeneville City Schools have worked for many years to meet the instructional shifts of rigorous standards and assessments," said Assistant Director of Schools for Instruction Dr. Suzanne Bryant. "The results of the 2016-2017 data reflect this diligence and dedication to the success of all students."
In addition to earning the "Exemplary" status, the district earned a level 5 ranking in TVAAS (Tennessee Value Added Assessment System). The TVAAS determination is a measure of student growth and is a 1-5 scale, with 5 being the highest level possible.
"These results reflect the work our educators do daily to ensure all students grow and thrive," said Dr. Bryant. "Our educators truly carry out the vision of Learning Without Limits for all students."
Greeneville City Schools also scored well above the state average in all areas in the TN Ready and TCAP assessments. Every school in the district earned excellent scores in both achievement and growth data. Greeneville City Schools students outperformed 89% of Tennessee's school districts in elementary and middle grades reading, 82% of the state's school districts in math, and 86% of the state's school districts in science.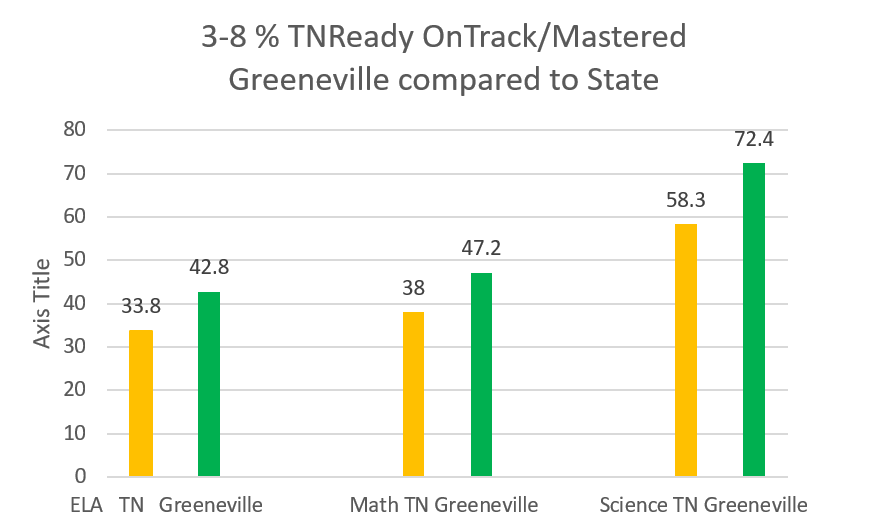 Greeneville City students also scored in the top 10 in the state in most High School End of Course assessments and ranked among the top 10 in the state for ACT scores. Greeneville City's graduating class of 2017 ranked well above the state and national average ACT scores.
"These results reflect the hard work and dedication our teachers and students have put forth to meet the expectations of more rigorous standards," said Director of Schools Dr. Jeff Moorhouse. "I am extremely proud of our individual school and district results, as well as our state rankings. We are also thankful for the support and investment our community makes in education. These results are a shared celebration for our school system and the Greeneville community."